On May 13, 2021, the CVHS virtual open garden tour team visited the garden of CVHS members Kelly and Carl. This beautiful, lush 1-acre specimen garden (on a 2.2-acre property) is located north of Courtenay and it has it all. A babbling brook leading to a pond with koi, a tranquil seating area, clematis-bearing obelisks, raised veggie beds, fruit trees, a lovely dining area with a view of the Beaufort Range, rhododendrons galore, many mature trees, and it is fully deer and rabbit proofed. Kelly and Carl purchased the property a few years ago–Kelly being so thrilled with the garden that she barely needed to see the house before wanting to purchase the property. She feels that the garden has helped keep her sane and healthy during these past months.
During the tour, we were lucky to also have onsite Lily, a previous owner of the property, who purchased it with her husband in 1985 and was co-initiator of the original garden plan. Lily even brought with her an article from the February 2007 edition of Gardens West magazine where a feature was written about her garden—by none other than our local Duchess of Dirt, Leslie Cox (with photos taken by Leslie's husband John).
To access the 18-minute YouTube video of the tour, click here: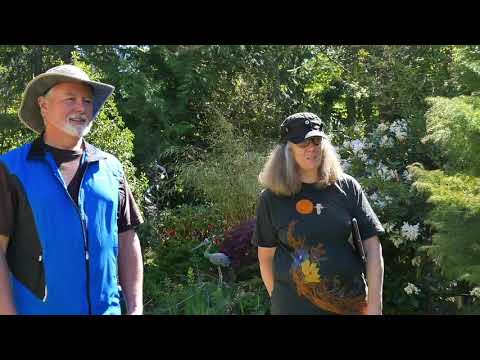 We also filmed a quick walk through of the garden (2.5 minutes) for those of you that prefer shorter videos. To access this video, click here:
Please note that there will also be a Facebook post that will contain lots of photographs should you wish to see more of this lovely garden.