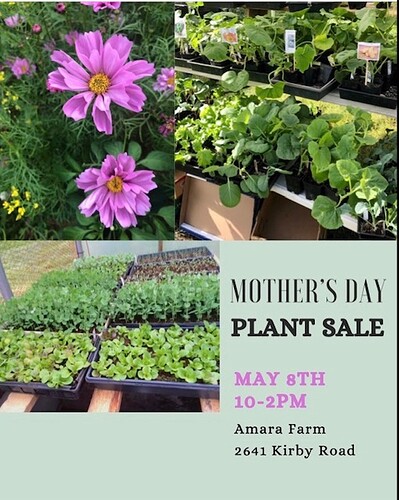 Mother's Day Plant Sale at Amara Farm, 2641 Kirby Road, from 10am-2pm has something for every mom.
A partnership between Amara Farm and Wild Bee Florals ensures that any green thumb will find the right plant for them. "Bring mom for an outing or come with a friend and support local farmers at the same time", encourages Arzeena Hamir, co-owner at Amara Farm. "We'll be set up outdoors with lots of spacing so that everyone is comfortable. It will be so lovely to see people in person again after a hiatus of a couple of years".
Amara Farm specializes in growing edible plants including Sungold and Black Cherry tomatoes, Jalapeno & sweet peppers, Green Finger cucumber, Hope melon, kales, cabbages and other vegetables.
Wild Bee Floral will be supplying the plant sale with sweet peas, cut flower, everlasting, and dye garden kits. "The cut flower, everlasting floral and dye colour garden seedling kits are a wonderful opportunity for home gardeners to grow alongside us this season and continue to expand our community of flower enthusiasts", shares Thanushi Eagalle, owner of Wild Bee Florals. "These garden seedlings kits will also be linked up to flower workshops that we will be offering this year".
Disabled parking will be provided on-farm and carpooling is encouraged. For more information, please contact Amara Farm at 250-702-5657 or email amarafarm@gmail.com Cash and credit card/debit will be accepted.