Here is one of my favourite soups for this time of year. It's very filling, delicious and authentically Tuscan, from Italian Regional Cooking, by Ada Boni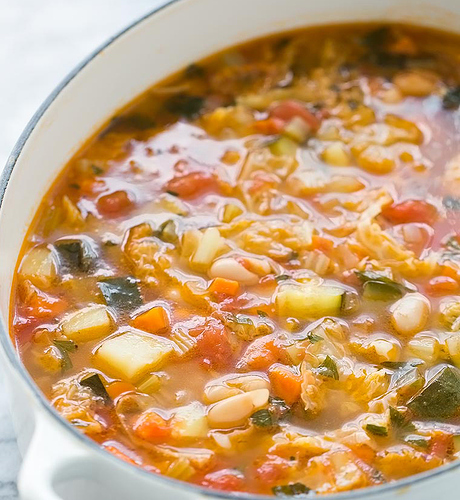 2 c dried white beans
, soaked overnight
1/2 c olive oil
2 cloves garlic
, finely chopped
1 small onion
, thinly sliced
2 stalks of celery
, diced -
or in my case I use a small handful of dried lovage from the garden, because I don't often buy celery.
1 carrot
, diced
2 sprigs rosemary
, finely chopped
1/2 c finely chopped bacon
- optional
5 tsp. tomato paste
1/2 head savoy cabbage
, shredded
2 - 3 leeks
, chopped
3 small zucchini
, diced
Finely chopped
basil
, to taste
(I preserve mine frozen in ice-cube trays with a little water, then put them into a bag in the freezer)
2 - 3 sprigs finely chopped
parsley
1 clove
salt and pepper
to taste
rice, noodles, or pieces of toasted bread to finish
Cook the beans in their soaking water for about 2 hours, or until tender. Drain, reserving the liquid, and put about half of them through a fine sieve, food process, or blender. (If you use an immersion blender, remove about half of the beans first so that you have nice whole beans to put back in.) Put aside.
Heat the oil in a large pot and gently saute the garlic, onion, celery/lovage, carrot, rosemary and bacon until they begin to brown. Dilute the tomato paste with a little warm water, stir it into the pan, then add the cabbage, leeks, zucchini, basil, parsley and clove, as well as the pureed and whole beans, and their cooking water. Add a little extra hot water if necessary. Check seasoning and cook slowly for 30 minutes.
If using rice or noodles, add them to the broth at this point and cook until tender. Otherwise, serve the thick soup poured over slices of toast, adding a little extra olive oil to serve.