LUSH Valley does such wonderful work supporting people in need of fresh food. As gardeners, I'm sure we all understand the necessity for people to access fresh vegetables and fruits. Have a look here at the food support programs they operate.

LUSH have been moving around locations over the years and now are working on purchasing a permanent location. Here is their campaign information: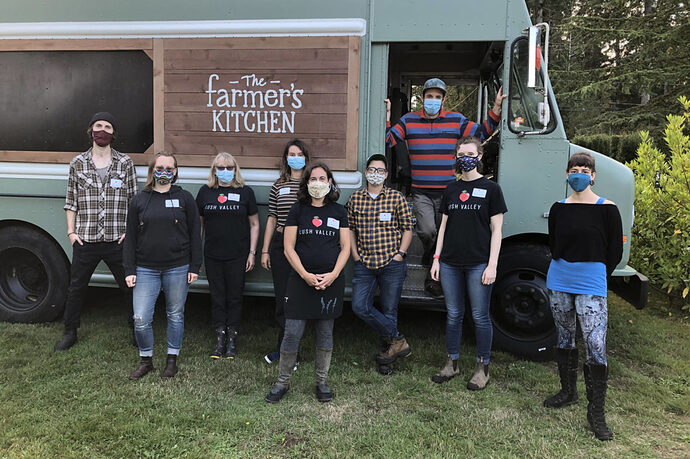 LUSH VALLEY CAPITAL CAMPAIGN
SUPPORT LUSH VALLEY IN SECURING OUR 'FOREVER HOME'*
Throughout the next three years, LUSH will be working to raise half a million dollars
MEALS FOR A DEAL: SUPPORT LUSH VALLEY IN SECURING OUR 'FOREVER HOME'
As the needs of our community have grown, LUSH Valley has grown to meet them. Throughout the past year we have responded quickly and effectively to this unprecedented crisis brought on by the global pandemic by expanding our programs in a big way.
Now the time has come for LUSH Valley to put down roots in a permanent location so that we may continue to respond to the ever-changing needs of our community.
With the support of the LUSH Valley Board of Directors, a potential building has been found and the offer has been accepted! In order to secure the property, we have launched our first-ever Capital Fundraising Campaign. Over the next three years, LUSH Valley will be working to raise $500,000.00.
The first target is to raise $65,000.00 by the end of August. To kick off the fundraising, LUSH Valley is hosting Meals For A Deal each Wednesday night over the summer in partnership with Farmer's Kitchen Food Truck. The Truck will be on location at 1255 McPhee Ave (behind Relay Event & Party Rental) between 5:00-8:00pm each Summer Wednesday starting July 14th.
The Farmer's Kitchen Food Truck draws inspiration from a variety of global street vendors and puts a vibrant, fresh twist on dishes by collaborating with Comox Valley farmers and chefs to draw local, in-season ingredients. Each week's menu will take on a different theme and will accommodate a different set of dietary preferences (beginning with Vegetarian on July 14th). All meals will include four courses: an appetizer, a main dish, a side dish and a dessert, all for $35.00!
To purchase a ticket and check out this week's menu, click here.
If you cannot attend the event(s) but would like to support LUSH Valley in finding a forever home to continue our food security work in the Comox Valley, click here to make a monthly or one-time donation.
We are incredibly grateful to our partners at the City of Courtenay, the CVRD and elsewhere who have provided us public spaces to operate in over the past year and a half. The generosity of our community partners in sharing their spaces over the past four years has allowed us to operate our many programs throughout the Comox Valley.