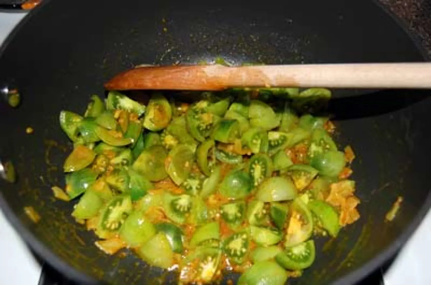 A novel and delicious way to use up some of those end of season green tomatoes!
Green Tomato Curry
Ingredients
· ¼ cup butter
· 2 medium onions, chopped
· 4 Tbsp. curry powder
· 1 tsp. cumin
· 1 cup water
· 8 cups green tomatoes
· ½ cup brown sugar
· 2 Tbsp. lemon juice
· ½ tsp. paprika
· Salt
Directions
Sauté onions in butter for 10 minutes. Add curry powder and cumin and cook for 5 minutes longer. Stir in water and remaining ingredients. Simmer for 30 minutes, stirring occasionally and adding more water if necessary. Serve over rice.
1996, The Complete Harrowsmith Cook Book , Firefly Books Ltd., Willowdale, Ontario. Recipe found on page 164. Recipe originally submitted by Leslie Gent, Courtenay, BC.