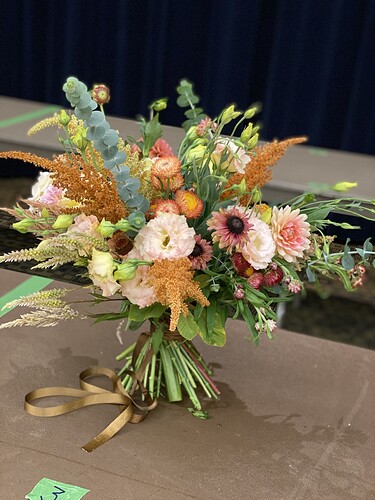 Congratulations to Veronica, the winner of last night's garden arrangement and display contest. The flowers in Veronica's beautiful display were all grown by her from seed. If you have an Instagram account, her garden journey can be viewed at '@roystongardens'. The other winners were, in second place, Carol, and in a tie for third, Ellen and Kelly.
We also enjoyed a fabulous presentation from Andrew Jager from Walters Gardens (Walters Gardens is a perennial supplier to Proven Winners). Walters Gardens is located in Michigan and was founded in 1942. Today, they have over 500,000 square feet of greenhouse space and 1500 acres of fields that produce millions of bare root perennials each year (they are the largest bareroot operation in North America). They have an extensive new plant development program that focusses on producing perennials that are more robust and more beautiful.
Andrew discussed many specific plants that were developed to resist deer browsing, are heat tolerant and have low water needs or are shade tolerant. Plants discussed are as follows:
Deer Resistant:
'Serendipity' Allium, 'Storm Cloud' Amsonia tabernaemontana, 'String Theory' Amsonia, 'Jack of Diamonds' Brunnera macrophylla, 'Drops of Jupiter' Origanum, 'Cat's Pajamas' Nepeta, PRAIRIE WINDS® 'Niagara Falls' Panicum virgatum.
Heat Tolerant/Lower Water Needs:
MEANT TO BEE™ 'Queen Nectarine' Agastache, MEANT TO BEE™ 'Royal Raspberry' Agastache, DECADENCE® 'Lemon Meringue' Baptisia, DECADENCE® DELUXE 'Pink Truffles' Baptisia, COLOR CODED® 'One in a Melon' Echinacea, SUMMERSONG™ Firefinch™ Echinacea, RAINBOW RHYTHM® 'Orange Smoothie' Hemerocallis, RAINBOW RHYTHM® 'Sound of My Heart' Hemerocallis, PYROMANIA® Kniphofia, 'Pink Profusion' Salvia nemorosa, COLOR SPIRES® 'Back to the Fuchsia' Salvia, ROCK 'n GROW® 'Back in Black' Sedum, ROCK 'N ROUNDS® 'Pride and Joy' Sedum.
Shade Tolerant:
'Chantilly Lace' Aruncus, 'Dark Side of the Moon' Astilbe, DOLCE® 'Wildberry' Heuchera, PRIMO® 'Black Pearl', 'Mahogany Monster', 'Pistachio Ambrosia', 'Wild Rose' Heucheras, SHADOWLAND® 'Autumn Frost', Miss America', 'Voices in the Wind' Hostas, 'Spot On' Pulmonaria.
To view photos of these plants, and more, see: https://www.provenwinners.com/plants/program/proven-winners-perennials
A big thank you to Andrew Jager for this fabulous talk—this is a very helpful list to keep handy if shopping for perennials that will be planted in challenging spots. As plantsworman Beth Chatto said "Right plant, right place!"
#comoxvalleygardens
#comoxvalleygarden
#comoxvalleygardening
#courtenaygardens
#cvhortsoc
#comoxvalleyhortsociety
#comoxvalleyhorticulturalsociety
@Walters Gardens