Edit April 3-all gone. Did that get anyone's attention? Seriously, I planted 48 seedlings for the CVHS plant sale in May. They are seeds from Good Earth Farms in Black Creek. Chocolate Cherry and Merville Rocket (see below for plant info). I definitely DO NOT need that many tomatoes – they are getting big and need to be transplanted soon into bigger pots (they shouldn't go out into the ground unless protected until late May at least). I can put in a box and wave at you as you pick them up!

I am on Greaves Road just off Pearcy. If I don't hear from anyone I'll put this out on the Gardening on Vancouver Island facebook group (or am open to other suggestions).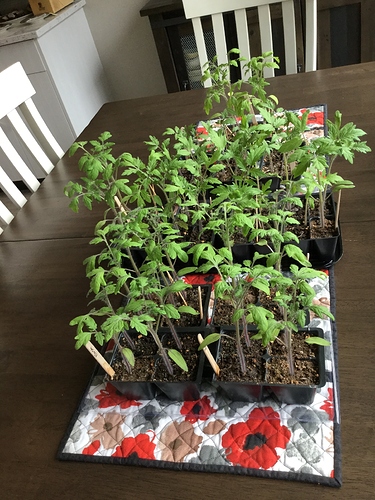 chocolate cherry: VINE. 1-2oz brownish red fruit, prolific 6' tall vines. Produces until the frost. Sweet & juicy. Tomatoes do best started inside at least to get them germinated. Watch that they don't get to leggy and that you harden them off before moving outside.
Merville rocket: BUSH. Early, prolific, small round Red fruit with excellent sweet tart flavor Container friendly. This is a classic rocket tomato that has been grown by Steve Horel at RockBottom Farm in Merville for 30+ years. Tomatoes do best started inside at least to get them germinated. Watch that they don't get to leggy and that you harden them off before moving outside