Welcome to Culinario cibus (Kitchen food), the Comox Valley Horticultural Societies culinary hub - for sharing everything about food! Share a recipe, find a recipe, ask a question. What we do with our garden harvest, it varies throughout the year and this is the place to share it!
I will start it off with one of my favourite Persian recipes, a hearty soup for our rainy month…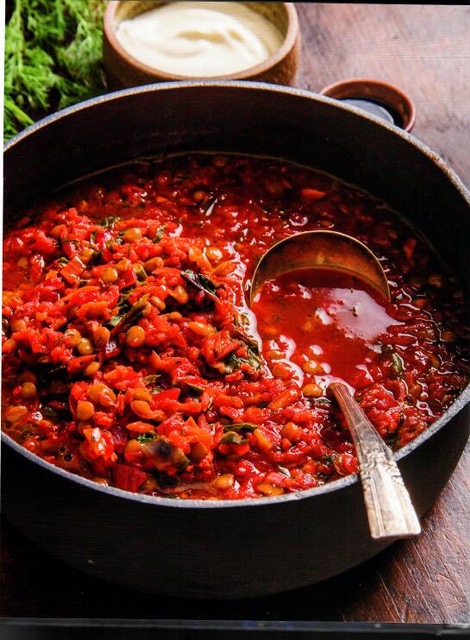 Aash-e Shooli (Lentil and Beet Soup)
Ingredients
¼ cup olive oil
1 medium red onion, diced
2 tablespoons unsalted butter
4 cloves garlic, chopped
1 leek, white and light green parts only, chopped
Kosher salt
¼ cup jasmine rice, rinsed and drained (substitute other rice)
½ teaspoon ground turmeric (add more to taste)
½ teaspoon ground cumin (add more to taste)
½ teaspoon ground coriander (add more to taste)
¾ cup green or brown lentils, rinsed
2 medium beets (about ¾ pound), peeled and grated
7 cups chicken broth (vegetable broth or water, or a mix)
Ground black pepper
5 beet greens, finely chopped (substitute kale or collards)
1 bunch dill, finely chopped (substitute dried dill)
2 tablespoons balsamic vinegar (substitute cider vinegar)
Yogurt for topping (optional)
Directions
In a large pot, heat the oil over medium-high heat. Add the onion and cook, stirring frequently, until golden brown, about 8 minutes. Reduce the heat to medium-low, add the butter, garlic, leek, and a good pinch of salt and cook until softened, about 5 minutes. Add the rice, turmeric, cumin, and coriander, and stir for a couple of minutes, until fragrant.

Add the lentils, beets, broth, 2 teaspoons salt, and ¼ teaspoon pepper. Turn up the heat, and bring to a boil. Reduce the heat to medium-low, cover with the lid slightly ajar, and simmer for 30 minutes, stirring once in a while.

Add the beet greens and dill. Cover and simmer until the lentils have cooked through but are not mushy, and all the flavours have happily melded, about 15 minutes. Add water if needed to thin out. Turn off the heat and stir in the balsamic vinegar. Serve with a drizzle of olive oil and/or a swirl of yogurt, and a few dill fronds. Place the vinegar on the table and let everyone drizzle more as they like.
Make Ahead: Prepare up to 3 days ahead. Add water as needed when reheating, as the lentils and beets will suck up a significant amount of broth. Taste and adjust the seasoning as needed.
Prep Ahead: The beets can be grated up to 1 day in advance and stored in an airtight container in the fridge.
Plan Ahead: Portion off in containers and freeze for up to 3 months. Thaw and reheat at the first sign of the sniffles.
---
2018 Naz Deravian, Bottom of the Pot: Persian Recipes and Stories. Flatiron Books, New York. Recipe found on page 87.